You'll often find Answer The Public in my recommendations for free keyword research tools. It's an easy way to find long-tail keywords related to your industry, and you can use your findings for lots of content ideas for your content marketing strategy.
As I like to talk about SEO, in this blog post, we're going to look at how to use Answer The Public for keyword research specifically, but as I said, you can use this to create content for all platforms.
Before we go any further, let me introduce you to Answer The Public!
What is Answer The Public?
Answer The Public is a free tool, recently acquired by Neil Patel, that uses autocomplete data from search engines to provide you with a list of search queries related to your seed keyword.
To use Answer The Public, you enter a seed keyword, which would be something related to your business, like "web design services" or "organic dog food". The results will feature questions searched on Google related to your seed keyword.
Why use Answer The Public?
Well, for starters, it's a free SEO tool that provides valuable insight into what your potential customers search for on Google.
If you're looking to expand your keyword research strategy beyond a guessing game, by using a tool like Answer The Public, you can uncover hundreds of phrases and questions people are asking related to your business.
Here are a few of my favourite reasons to use Answer The Public.
Generate New Content Ideas
If you're stuck on what to write about for your next blog post, Answer The Public probably has the answer for you.
Let's pretend you're a landscape gardener. You type in "small garden" to Answer The Public, wait a few minutes and suddenly you're presented with 45 questions searched on Google related to your seed keyword.
Here's how that looks: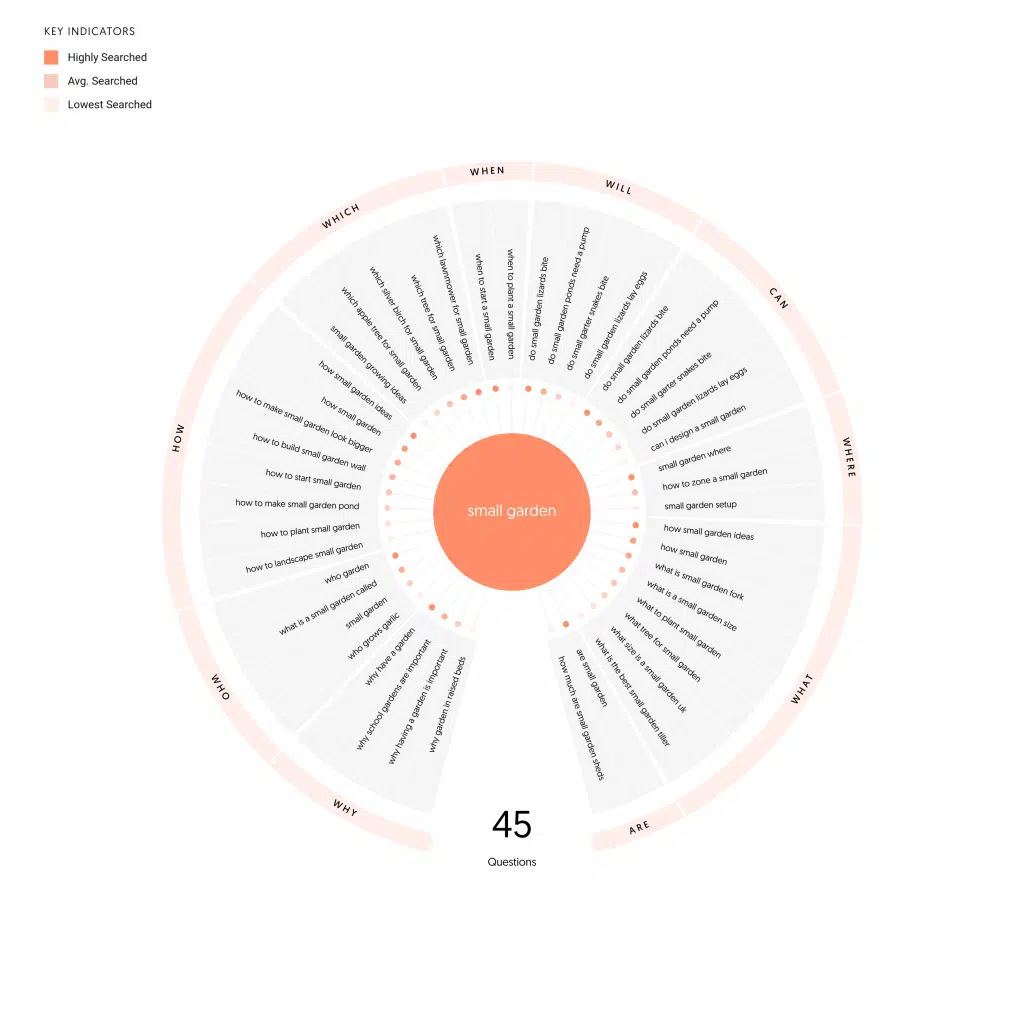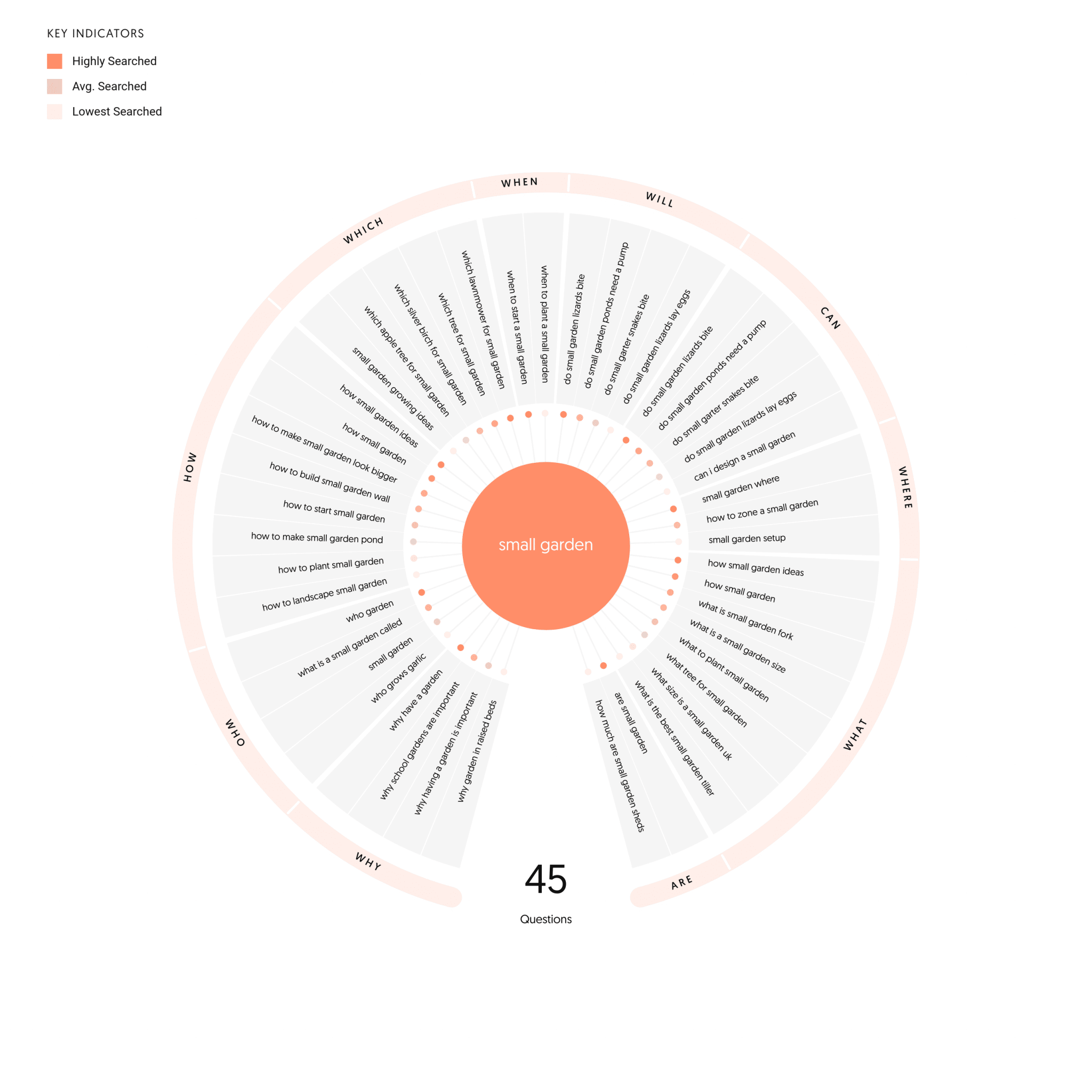 Of course, not all of these questions would be relevant to your landscape gardening business blog. For example, "Do Small Garden Lizards Lay Eggs" is unlikely to lead you to potential customers.
Now let's take a look at what you could use.
How to Build a Small Garden Wall
When to Start a Small Garden
How to Zone a Small Garden
How to Make a Small Garden Look Bigger
That's your next four blog posts planned out!
Get Featured in Featured Snippets
Featured snippets on Google are usually the first search result and look different to the results below. Their features vary depending on the content, but it's common to see excerpts from the page, such as lists, images, step-by-step instructions, or short paragraphs. Here's an example:
By showing up in Featured Snippets, your page is a lot more likely to be clicked than other pages on Google's search engine results for the same query, so it's a one-way ticket to increasing your organic traffic!
Discover Search Volume
Answer The Public provides you with monthly search volume for all the keyword ideas it generates for your seed keyword. It's worth noting that SEO tools aren't very reliable for providing accurate search volume, but they will give you a good indication of if a keyword has a high or low search volume. If you're unsure about which you should be targeting, check out this keyword research tips post.
Get Featured in People Also Ask
People Also Ask is similar to Featured Snippets in that additional content from your page is pulled into Google's search results. Using one of the keyword ideas we found above, here's an example of People Also Ask featuring a page that best answers this question:
People Also Ask is a great way to target people searching for queries related to your page, but not the specific query itself, as Google will show People Also Also on related searches.
Generate More Organic Traffic
We're going to round off my reasons for using Answer The Public with the most obvious one. Optimising your website pages, or creating new content, for queries searched on Google is the best way to generate more organic traffic to your website. This is why it's so important to have a decent toolkit at your disposal for your keyword research – it all starts there!
How to use Answer The Public for Keyword Research
Here's the step-by-step method you need to follow to use Answer The Public for your keyword research.
Step 1: Enter your seed keyword into the search tool
Keep in mind you can only carry out three searches per day with the free plan of Answer The Public, so make sure you're clear on your seed keywords first!
Step 2: Choose from the 5 visualisations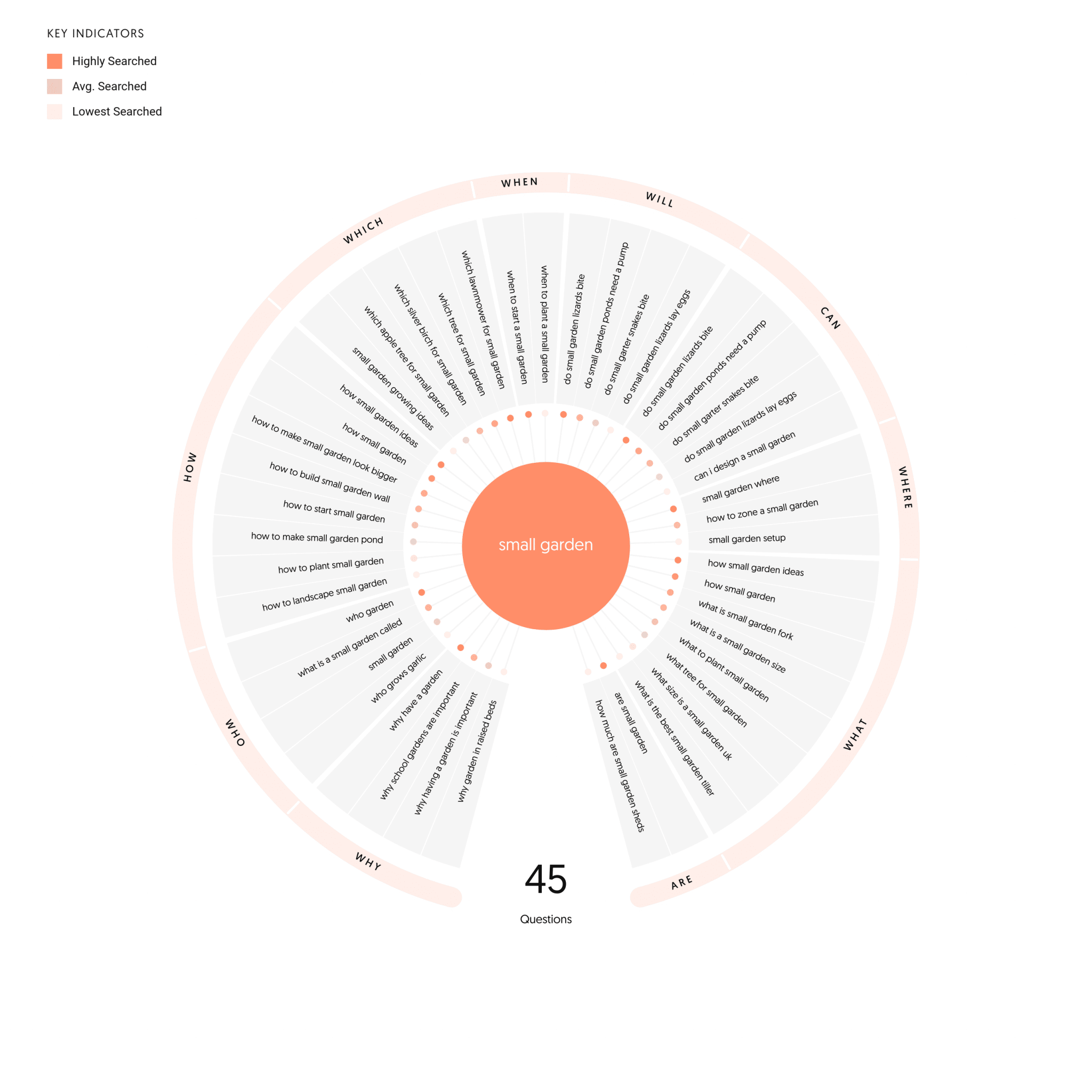 You will be presented with 5 data visualisations in your search results. For blog posts, you'll probably find the "Questions" visualisation the most useful, however, "Comparisons" and "Prepositions" can contain some hidden gems too. 
"Alphabeticals" works best for product or service page keywords and "Related" tends to be a mixed bag. I don't personally find "Related" very useful a lot of the time but the 4 other visualisations will provide some gold to work with. 
Step 3: Check the data tab
As mentioned earlier, the data you find in the data tab may not be the most accurate, but if you treat the numbers as ballpark figures you'll find them useful. If your gut tells you that people are searching for a term, but Answer The Public says the search volume is zero, you should still write the content. Ultimately, you know your target audience best!
Step 4: Store the data
You can download your keyword data directly from Answer The Public with their export tool, although you can only export 30 keywords this way.
The cheapest way to store the data is to copy and paste the relevant search terms for your business.
Either way, you should take all relevant terms for your business and plan to create content around them now or in the future.
Ultimately, Answer The Public is a tool you should use to create better content. Of course, it's a bonus that you can use the keywords provided to get your content ranking higher on Google, but as the name of the tool implies, you should always focus on providing helpful content! 
If you're looking for more free keyword research tools, here's how to use Google Search Console for keyword research!